Thed Björk and Frédéric Vervisch relish Race 3 photo-finish fight
YMR's Thed Björk and Comtoyou Racing's Frédéric Vervisch put on the fight of the weekend in the final race at the Slovakiaring, with the Belgian Audi Sport driver holding off multiple champions Fabrizio Giovanardi, and then Thed Björk for the final podium spot by just 0.039 seconds.
Vervisch made good progress at the start, with the Audi showing good one lap pace in qualifying which had put him firmly in the top ten, but as had been the case all weekend, pace dropped off during the race and he fell back towards the high-top-speed Alfa Romeo of Giovanardi in the early stages, before Thed Björk passed the Italian and took over the baton, battling the Belgian for P3 until the end in his strong all-rounder Hyundai i30 N TCR.
The fight came to a head going on to the final lap, as Björk dived past the Audi at Turn 13 for the lead, but Vervisch grabbed the spot back making use of the RS 3's top speed to lead him into Turn 1.
Björk and Vervisch then made it a drag race across the finish line on the last lap, with Vervisch taking his second podium of the season by a whisker, with the time keeper having to confirm the position by the start-line camera, as the gap between the transponders was too close to use the timing system.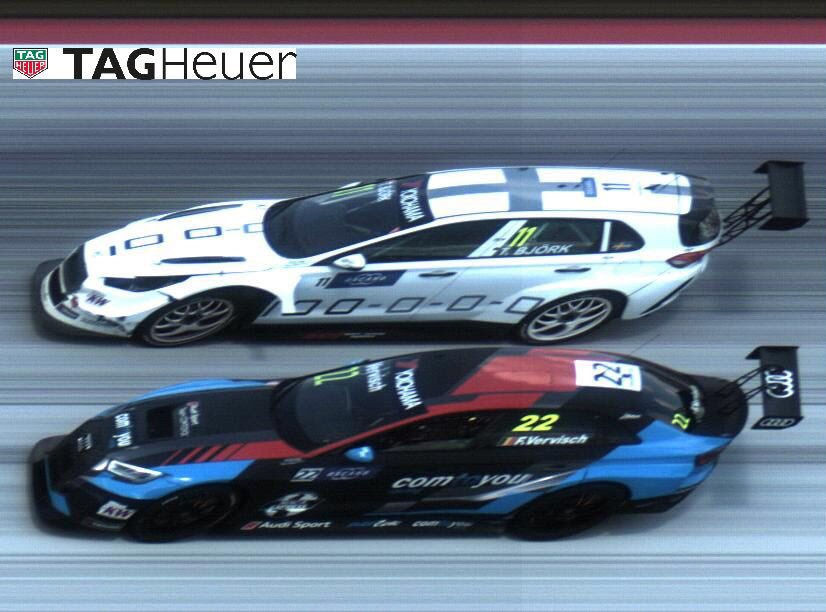 "This feels like a victory, better than the Nurburgring or a victory in another series," said Vervisch to TouringCarTimes. "It's fantastic to start in front and finish the job because that is what we all want. But if you are not in a position like for me starting P7, then having a good start and being where I should not be, let's say, in terms of pace, and I know these guys are so experienced and know all the tricks… it's a really nice feeling.
I was sure I wouldn't make it. OK, just try everything I can. I knew if one would pass me everyone would start to pass me. The feeling is great and I'm really happy with that."
Björk also enjoyed the battle, accepting his defeat to Vervisch, but enjoying his charge from 18th on the grid to fourth instead.
"It was a good race, it was really good," said Björk to TouringCarTimes. "I had a chance to get on the podium, but it didn't work out. (Frédéric) fought back really hard. It was really fun, really close and good fight."