Daniel Haglöf and Mikel Azcona complete the 2019 WTCR grid
New-to-WTCR Swedish team PWR Racing has confirmed its driver line-up for the 2019 World Touring Car Cup, with 2018 TCR Europe series champion Mikel Azcona making the step up for 2019, while STCC front-runner Daniel Haglöf, also co-owner of the PWR Racing team, will drive the team's other Cupra TCR.
22-year-old Azcona scored five podiums and a race victory in a highly consistent, and competitive season in the TCR Europe series last year, also driving a Cupra TCR, and will now race in the FIA Cup for the Vikmanshytan-based team.
"I feel super happy and proud to join PWR and Cupra Racing in the WTCR," said Azcona. "It's going to be an exciting season full of great challenges. I look forward to the hard work in front of me, to be competitive in this tough field full of world champions. Lastly I want to thank PWR and Cupra Racing for believing in me as a driver."
Azcona's team-mate will be 40-year-old Daniel Haglöf, who was in contention for the 2018 STCC title until the final round against former WTCC driver Robert Dahlgren, and two-time STCC and World Rallycross champion Johan Kristoffersson, who will again be one of his competitors now on the WTCR grid this year.
"I'm really looking forward to be competing on an international level again and I'm triggered by driving against the very best in this category of racing," said Haglof.
"To be doing it with the team that me and Poker (Wallenberg) have built together is a huge achievement. My team-mate Mikel is a really promising driver who aligns very well with PWR Racing's ambition to aid young talent in their racing careers. I think that we'll put on a great show and achieve good results in this years championship."
PWR Racing and Comtoyou Racing will be the two teams representing the new Cupra Racing brand on the grid, in an about change from 2018 when Campos Racing and Zengo Motorsport ran the Spanish marque's four cars, with Cupra Racing director Jaime Puig expecting great things from the season.
"Mikel is no longer only a promising driver," said Puig." His performance last year at the TCR Europe Touring Car Series which resulted in the first championship victory of his career is a proof of his skills and personality. He has taken his youthfulness as an asset, and he has taken a good decision by pairing with a veteran driver like Daniel Haglöf. I expect the best from both Mikel, Daniel and the PWR Racing team this season in WTCR."
The confirmation of Haglöf and Azcona completes the 2019 WTCR line-up, with DG Sport Compétition, Campos Racing, and Zengo Motorsport leaving the championship – with Peugeot Sport reducing support for its 308TCR project.
This caps the field at 26 full-season entries, with a predominately pro-level driver line-up for the championship's second season.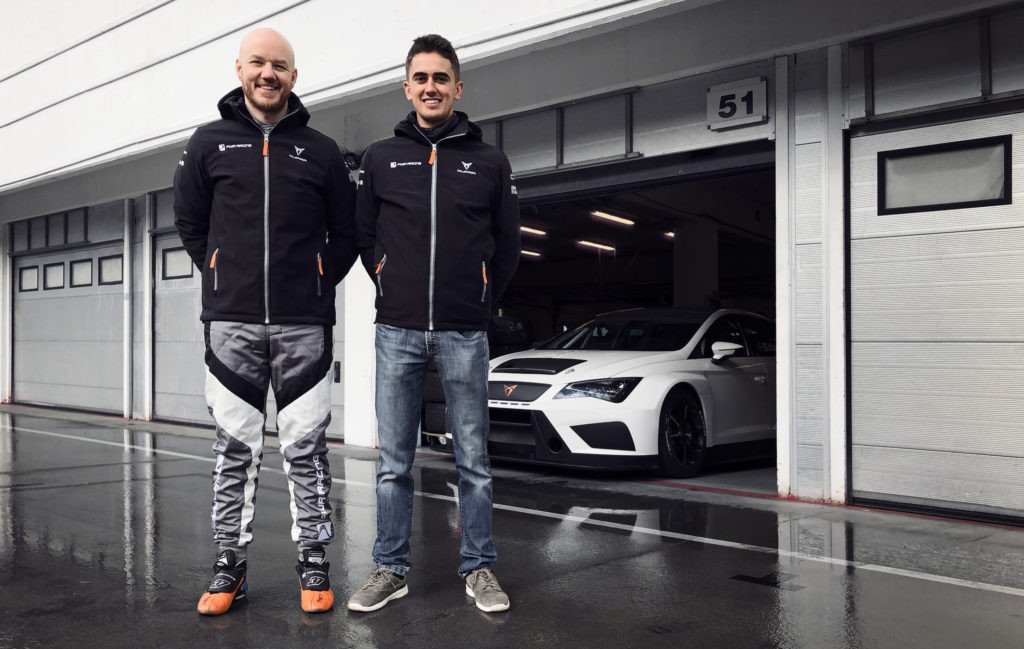 2019 WTCR driver line-up
Driver – Team – Car
1 – Gabriele Tarquini – BRC Racing Team – Hyundai i30 N TCR
5 – Norbert Michelisz – BRC Racing Team – Hyundai i30 N TCR
8 – Augusto Farfus – BRC Racing Team – Hyundai i30 N TCR
88 – Nicky Catsburg – BRC Racing Team – Hyundai i30 N TCR
11 – Thed Björk – Cyan Racing – Lynk & Co 03 TCR
TBC – Yann Ehrlacher – Cyan Racing – Lynk & Co 03 TCR
TBC – Yvan Muller – Cyan Racing – Lynk & Co 03 TCR
TBC – Andy Priaulx – Cyan Racing – Lynk & Co 03 TCR
9 – Attila Tassi – KCMG – Honda Civic Type R FK8 TCR
18 – Tiago Monteiro – KCMG – Honda Civic Type R FK8 TCR
TBC – Néstor Girolami – Münnich Motorsport – Honda Civic Type R FK8 TCR
86 – Esteban Guerrieri – Münnich Motorsport – Honda Civic Type R FK8 TCR
TBC – Rob Huff – Sébastien Loeb Racing – Volkswagen Golf GTI TCR
TBC – Benjamin Leuchter – Sébastien Loeb Racing – Volkswagen Golf GTI TCR
TBC – Johan Kristoffersson – Sébastien Loeb Racing – Volkswagen Golf GTI TCR
TBC – Mehdi Bennani – Sébastien Loeb Racing – Volkswagen Golf GTI TCR
52 – Gordon Shedden – WRT – Audi RS 3 LMS
69 – Jean-Karl Vernay – WRT – Audi RS 3 LMS
TBC – Niels Langeveld – Comtoyou Racing – Audi RS 3 LMS
TBC – Frédéric Vervisch – Comtoyou Racing – Audi RS 3 LMS
21 – Aurélien Panis – Comtoyou Racing – Cupra TCR
50 – Tom Coronel – Comtoyou Racing – Cupra TCR
TBC – Daniel Haglöf – PWR Racing – Cupra TCR
TBC – Mikel Azcona – PWR Racing – Cupra TCR
31 – Kevin Ceccon – Mulsanne Racing – Alfa Romeo Giulietta Veloce
TBC – Ma Qing Hua – Mulsanne Racing – Alfa Romeo Giulietta Veloce