ETCC reveals 19-car line-up for new two-tier 2016 season
The European Touring Car Cup has revealed 19 cars for its 12th season, with the four-class format of recent years dropped, with the Single-Make Trophy and TC2T and TC2 classes effectively merged as the top class, with the low-cost Super 1600 cars as its second tier.
The previously SEAT León Cup Racer-only Single-Make Trophy has now been opened up to include all cars which conform to the similar technical blueprint as used by TCR, and dubbed the FIA TCN2 class for 2016. These cars will compete in what is now called the Super 2000 Cup class, which also allows cars conforming to TC2T and TC2 regulations, though no cars from those classes have been entered. The class is therefore dominated by the SEAT León Cup Racer, with up to three JAS Motorsport-built Honda Civics to be entered during the season.
The Super 1600 Trophy class features cars running with 1.6 litre normally aspirated engines, and mostly features the venerable Ford Fiesta 1.6 16v originally developed for the ADAC Procar Series Division 2 class, while two Peugeot 207 Sports run by ETH Tuning, also a team from ADAC Procar, join the fold.
Last year's S1600 champion Nicklas Mackschin has returned to defend his title in the class with Gena Autosport, while the SMT and TC2T champions Dusan Borkovic and Davit Kajaia have moved to the TCR International Series.
ETCC veterans Andreas Pfister, Petr Rikli and Petr Fulín are back in the series in the S2000 Cup cars, which accounts for 11 of the 19-strong entry.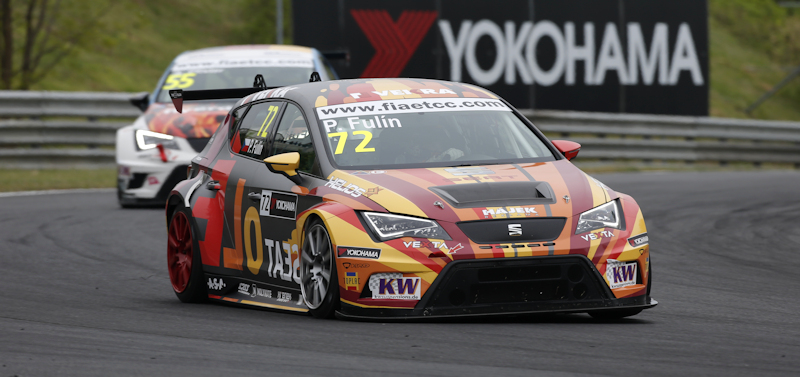 Three drivers announced are participating on a race-by-race basis, including René Münnich, who is also entered in the World Touring Car Championship, Kazakhstan driver Alexandr Artemyev and Ukrainian Andrii Levtusheko.
The ETCC starts at Paul Ricard, France, on April 3rd, supporting the World Touring Car Championship, and continues on supporting the WTCC events in Slovakia, Germany and Portugal, before splitting off to host two standalone events at Magny-Cours, France on July 10th and Imola, Italy on October 2nd.
Tyre supplier Yokohama is sponsoring the prize money for the year, with 6,000 EUR awarded to the highest scoring driver in the Super 2000 Cup class, and with 3,000 EUR for the top-placed Super 1600 Trophy driver, with the top four receiving prize money in S2000 and top three in S1600, as well as the pole-sitter and fastest lap setters in each race.
2016 European Touring Car Cup Entry List
No – Driver – Team – Car – Class
7 – Andreas Pfister – Pfister Racing – SEAT León Cup Racer – S2000 Cup
8 – Norbert Nagy – Zengo Motosport – SEAT León Cup Racer – S2000 Cup
11 – Kris Richard – Rikli Motorsport – Honda Civic TCR – S2000 Cup
12 – Peter Rikli – Rikli Motorsport – Honda Civic TCR – S2000 Cup
14 – Igor Stefanovski – Lema Racing – SEAT León Cup Racer – S2000 Cup
17 – Mladen Laslusic – Lein Racing – SEAT León Cup Racer – S2000 Cup
19 – Christjohannes Schreiber – Krenek Motorsport – SEAT León Cup Racer – S2000 Cup
22 – Petr Fulín – Krenek Motorsport – SEAT León Cup Racer – S2000 Cup
37 – Fabio Mota – Lema Racing – SEAT León Cup Racer – S2000 Cup
73 – Alexandr Artemyev* – Baporo Motorsport – SEAT León Cup Racer – S2000 Cup
77 – René Münnich* – Münnich Motorsport – Honda Civic TCR – S2000 Cup
81 – Nicklas Machschin – Gena Autosport – Ford Fiesta 1.6 16v- S1600 Trophy
82 – Kseniya Niks – Gena Autosport – Ford Fiesta 1.6 16v- S1600 Trophy
83 – Daniel Niermann – Gena Autosport – Ford Fiesta 1.6 16v- S1600 Trophy
84 – Ulrike Krafft – Arkonic Racing – Ford Fiesta 1.6 16v- S1600 Trophy
85 – Tomas Koreny – Ravenol Team SAN – Ford Fiesta 1.6 16v- S1600 Trophy
86 – Andreas Rinke – ETH Tuning – Peugeot 207 Sport – S1600 Trophy
88 – Kevin Hilgenhövel – ETH Tuning – Peugeot 207 Sport – S1600 Trophy
99 – Andrii Levtusheko* – Master KR Racing – Ford Fiesta 1.6 16v- S1600 Trophy
* Race-by-race entry